HBO y Netflix barren en las nominaciones de la 69ª edición de los Emmy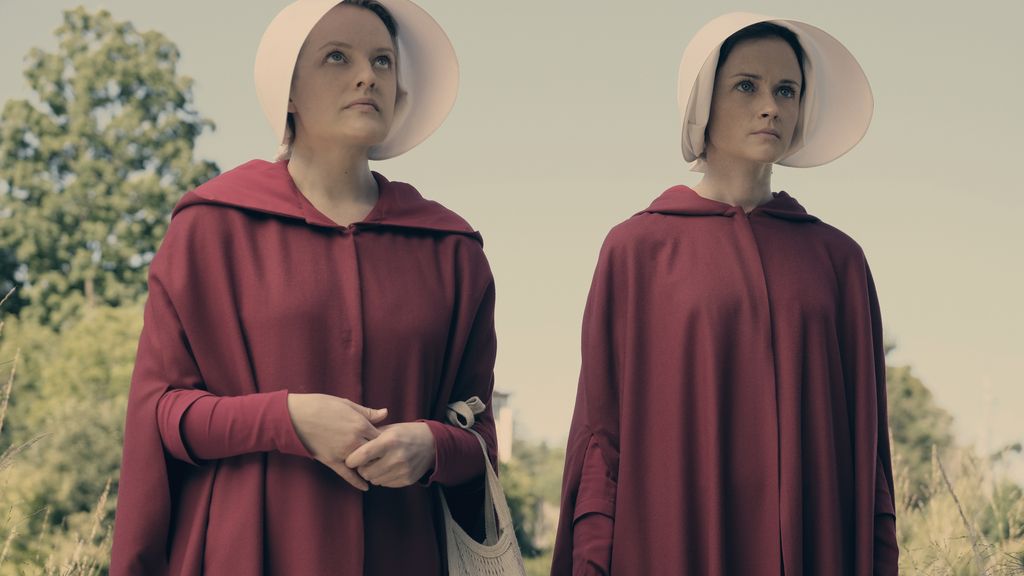 mediaset.es
TELEMANIA.ES
13/07/2017
18:32 h.
.

Las calles de Hollywood se llenaron de criadas de The handmaid's tale para reclamar un premio para una de las series revelación del año. Por su parte, Damon Lindelof, creador de otra ficción de HBO, The leftlovers, hizo su particular campaña en redes sociales prometiendo un premio poco usual: "Nominad a Theroux y los pantalones de chándal desaparecerán", escribió el co-creador de Perdidos sobre la foto en la que aparece el sudoroso esposo de Jennifer Aniston, prometiendo un desnudo integral.
Los académicos han picado con la acción de la primera y han nominado a esta serie en la terna de mejor drama en la 69ª edición de los Premios Emmy, que se entregan el 17 de septiembre en el Microsoft Theater de Los Angeles, en una gala conducida por Stephen Colbert.
En cuanto a comedias, poca novedad: Veep y Modern family siguen en las quinielas.
Ésta es la lista de nominados:
Stranger things (Netflix)

The handmaid's tale (Hulu)

Unbreakable Kimmy Schmidt (Netflix)
Bob Odenkirk, por Better call Saul
Kevin Spacey, por House of cards
Liev Schreiber, por Ray Donovan
Matthew Rhys, por The americans
Sterling K. Brown, por This is us
Milo Ventimiglia, por This is us
Anthony Hopkins, por Westworld
Robin Wright, por House of cards
Viola Davis, por Cómo defender a un asesino
Keri Russell, por The americans
Claire Foy, por The crown
Elisabeth Moss, por The handmaid's tale
Evan Rachel Wood, por Westworld
Donald Glover, por Atlanta
Zach Galifianakis, por Baskets
Anthony Anderson, por Black-ish
Aziz Ansari, por Master of none
William H. Macy, por Shameless
Jeffrey Tambor, por Transparent
Pamela Adlon, por Better things
Tracee Ellis Ross, por Black-ish
Jane Fonda, por Grace and Frankie
Lily Tomlin, por Grace and Frankie
Ellie Kemper, por Unbreakable Kimmy Schmidt
Julia Louis-Dreyfus, por Veep
Mejor secundario de drama
Jonathan Banks, por Better call Saul
Mandy Patinkin, por Homeland
Michael Kelly, por House of cards
David Harbour, por Stranger things
John Lithgow, por The crown
Ron Cephas Jones, por This is us
Jeffrey Wright, por Westworld
Mejor secundaria de drama
Uzo Aduba, por Orange is the new black
Millie Bobby Brown, por Stranger things
Ann Dowd, por The handmaid's tale
Samira Wiley, por The handmaid's tale
Chrissy Metz, por This is us
Thandie Newton, por Westworld
Mejor secundario de comedia
Louie Anderson, por Baskets
Ty Burrell, por Modern family
Alec Baldwin, por Saturday night live
Tituss Burgess, por Unbreakable Kimmy Schmidt
Mejor secundaria de comedia
Vanessa Bayer, por Saturday night live
Leslie Jones, por Saturday night live
Kate McKinnon, por Saturday night live
Kathryn Hahn, por Transparent
Judith Light, por Transparent
FEUD: Bette and Joan (FX Networks)
Genius (National Geographic)
Mejor actor de miniserie o película
Geoffrey Rush, por Genius
Benedict Cumberbatch, por Sherlock: The lying detective (Masterpiece)
Riz Ahmed, por The night of
John Turturro, por The night of
Robert De Niro, por The wizard of lies
Mejor actriz de miniserie o película
Felicity Huffman, por American crime
Nicole Kidman, por Big little lies
Reese Witherspoon, por Big little lies
Jessica Lange, por FEUD: Bette and Joan
Susan Sarandon, por FEUD: Bette and Joan
Mejor secundario de miniserie o película
Alexander Skarsgård, por Big little lies
Stanley Tucci, por FEUD: Bette and Joan
Alfred Molina, por FEUD: Bette and Joan
Michael Kenneth Williams, por The night of
Bill Camp, por The night of
Mejor secundaria de miniserie o película
Regina King, por American crime
Laura Dern, por Big little lies
Shailene Woodley, por Big little lies
Judy Davis, por FEUD: Bette and Joan
Jackie Hoffman, por FEUD: Bette and Joan
Michelle Pfeiffer, por The wizard of lies